kleine hollandse meesters
---
| | |
| --- | --- |
| Naam kunstenaar: | Van der Plas, A. |
| Geboren: | Amsterdam, ?? |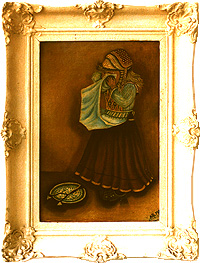 Painting, 26 x 37 cm, in original frame
Behind the painting is 20-4-1944 'made for aunt Bets'.
prijs: 2000 Euro
Girl in traditional clothes from Volendam that cries over her fallen plate. Pay attention to the pieces of the plate; if brought back they won't fit anymore, also her apron will be far to long after it's folded back.

The painting is made during the second World War.
How could an enthusiastic amateur in the WW II (just a few months before the winter that caused so many casualties) get paint and wood in order to give aunt Bets a painted present? Or will is be a allegory on the fact that Holland was in a lack of food (many Dutch died that winter) and that we disapproved on the horrifying German occupation in 1944.

---




For more information:
GO-ART.NL
email: office@go-art.nl